Hardware Accessories
Every business needs to customise the truck to meet specific needs. For some the need is for different door configurations for side loading. Others require bull bars, internal lighting or specific grab handles.
Here we have a selection of some of the most popular additions. Please talk to us about your specific needs!
Options & Accessories
We have grouped the options into sections below.
Doors
Major Door Combinations
Rear barn doors
Rear tri fold doors
Rear roller door (freezer or chiller grade)
Side personal access door
Side pallet width door
Pelican doors
External
Bull bars
Bull Bars effectively shield the front end of the truck with heavy-duty steel and serve to keep it operable after a collision. The design of the accessory gives your truck a stylish look, but offers real protection dating back to its original purpose. Bull bars that are air-bag compatible and comply with all the relevant regulations are available.
Recessed Door Handles
Recessed door handles look sleek and allow for your sign writing to be uninterrupted. They are also key lockable and allow for one handed operation when opening the door.
LED Running Lights
LED running lights are a low energy lighting system, not only do they look the part they ensure you will be seen on the road. They are also installed according to the Department of Transport's regulations, ensuring compliance.
Reverse camera
The reverse camera is a key safety feature, this allows for safe reversing and will help reduce accidents and vehicle damage.
Large Rear Bump Stops
Larger rear bump stops allow for easier dock loading and reduced damage to the rear of the truck.
Under-Run Protection
Eurocold offer under run protection as an optional upgrade.  This reduces the risk of cars and motorcycles sliding under the truck.
Hand Wash tanks
Rugged vehicle-mounted hand-washing stations designed to allow water and hand sanitizer to be dispensed virtually anywhere. Application-specific hardware enables units to be mounted to a wide variety of trucks.
Fire Extinguisher Cabinet
Cabinets to house extinguishers that work by discharging a powder that absorbs the fuel directly from the fire source, helping return your truck to safety. They are suitable for a range of fires and deliver high-level fire protection, making them effective in many different situations.
Trolley racks
The trolley is an essential part of a lot of refrigerated truck activity. Eurocold can build into the frame effective space to safely rack the trolley when not in use for easy access when needed.
Toolboxes
Durable truck boxes are specially designed to be mounted on the truck. Their installation is to accommodate the tools that may otherwise be left scattered, unorganised, and prone to damage.
Internal
Grab handles
Internal truck grab handles are an effective way to cut down on injuries associated with getting in and out of a truck body. They are added during truck production and give you an extra anchor point when entering and exiting the truck body.
Internal Lights
Eurocold installs LEDs in the body. LEDs produce much less heat than an incandescent bulb of the same lumens (amount of light). Additionally, the light is whiter than incandescent and is covered by translucent shields. They also have less drain on the battery and last longer.
Meat hangers & Meat Rails
When transporting primal meat cuts as carcasses, a meat hanger is required to hang the product from the roof.  There are different types of rail systems we offer including in-line or centre feed.  We can also add or remove rails depending on your individual requirements.
Internal Walls
To get the most out of your truck, utilisation of space is crucial. Talk to us about your needs and we can design and add in the relevant solution from:
Moveable bulkhead walls
Fixed internal walls (with or without fan kits)
Dividing chiller mats (with or without fan kits)
Air Flow Curtains
Multi-temp fridge units
Fixed or sliding curtain systems
PVC Rear & Side Door Curtains
Clear PVC Strip Doors provide an economical and simple installation solution to assist in controlling the body temperature, dust and hygiene at the right level when doing deliveries. They can also allow more cold air to be retained in the truck body during multiple door openings. They are available in a range of widths and thickness to suit and can be moveable or fixed.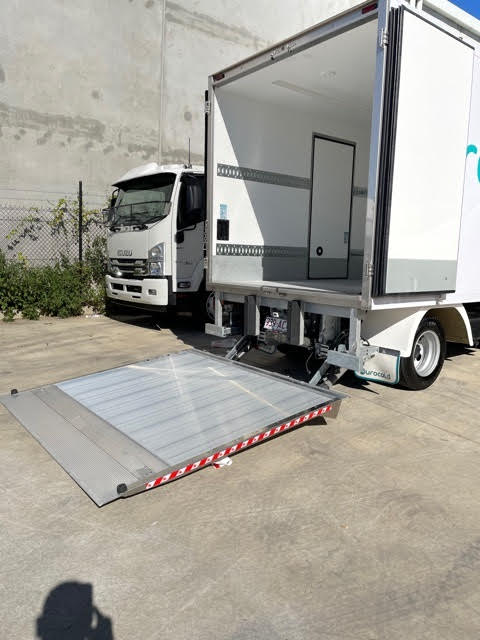 Access
Slide out ramps
Slide out ramps give versatility with extendable aluminium ramps built into the chassis rails. They allow easy access into the rear of the truck and can be used for trolley or cart loading.
Flooring
Air Flow Flooring
Air flow flooring allows for the refrigeration air to travel under the load of pallets, therefore providing a much more efficient temperature throughout the truck.
Drain Floors
Designed for milk cases and ice cream carts two floors' drains are standard. Fully welded seams.